Project for Planing & Construction of New Machines
Project "Multispin"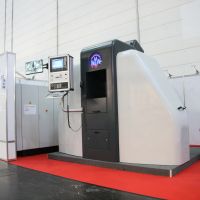 Stock-no:

0300005

type of control:

CNC

Year of manufacture:

2021

Country of origin:

Deutschland
Research - Development - Prototyping

In our joint project with the Fraunhofer Institute, we have developed a new, more powerful spindle drive for rotary transfer machines for machining stainless steels!
The project was supported by the Sächsische Aufbaubank (SAB) with funds from the European Regional Development Fund (ERDF).

planned publications:
Metav Düsseldorf 2022
Intec Leipzig 2023

Development status:
Machine and processing units have been put into operation.
The testing of the technology is being prepared.

Compared to the Gnutti units, the new machining units have the following
design advantages:
- 1 type of machining unit instead of 2 types (drilling, tapping)
- coaxial direct drives for spindle and Z axis (innovation)
- 7 times higher spindle power (from 2.98 kW to 21 kW)
- 6 times higher speed (from 1005 min-1 to 6000 min-1)
- 1.3-fold increase in volume (from 52.2 dm³ to 67.6 dm³)
- 5.4-fold higher power density (7 / 1.3 = 5.4)
and technological advantages:
- higher torques and forces for machining stainless steel instead of brass
- freely programmable S-speed, Z-feed via CNC program
- synchronization of a spindle and feed movement via cycles
- synchronization of the 6 machining units via 6 NC channels
- water cooling of motor spindles reduces heat input into workpiece
- Internal tool cooling through spindle shaft increases tool life
- HSK tool clamping reduces service times
- No retooling of the thread copying gear in case of changed workpiece geometry
Details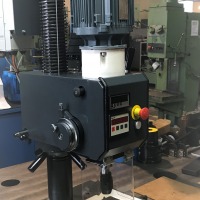 Stock-no:

111111

type of control:

conventional

Year of manufacture:

Country of origin:

Germany
Our Project in development
Machine will be manufactured completely new!
Basis for the new construction is the WMW BT2!
The machine is offered exclusively for wholesale.
The minimum purchase quantity is 20 pieces.



Details